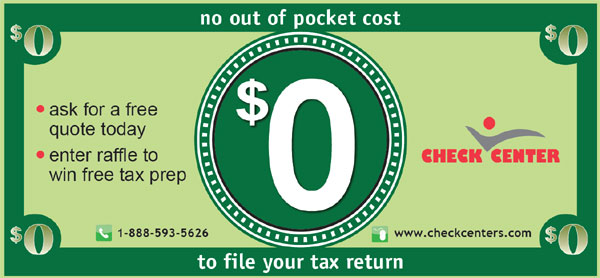 Free, no obligation tax estimate
No out of pocket costs to file your tax return
You choose the form of refund – check, direct deposit, debit card
Competitive tax processing prices – typically $50 less than competitors
Free, personal customer service
Call 1-888-593-5626 to ask for your free tax estimate today!
Tax Processing FAQ's
What are the average fees?
Prices start under $100. The average fee is around $170 – about $50 less than companies such as H&R Block and Jackson Hewitt.
How long does it take to receive my refund?
Direct deposit of your tax refund takes about 7-10 days when deposited on a Check Center-NetSpend pre-paid debit card.
When can I file my return?
The IRS accepts returns beginning January 31, 2014. We can enter your information now so your return will be automatically submitted on Jan. 31st
Who prepares the tax return?
Certified tax professionals prepare tax documents.
What do I need to obtain a free quote?
We can start a free no obligation quote with your W-2 or even your last 2013 pay stub.
Call us toll-free at 1-888-593-5626 to get a free tax estimate today.