Pay All Your Bills At a Location You Trust!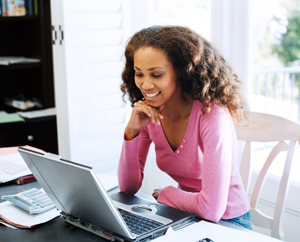 It can be hard to keep tabs on the countless bills that come through the mail each month. That's why Check Center offers our MoneyGram Bill Pay service, which allows you to pay for dozens of common bills each month in one place. With one to two business day processing, you can stay on top of your regular bills for a nominal fee and no hassle. Our clients commonly use our California bill pay service for the following:
Credit Cards
Cable/Satellite
Utilities

Mortgage and Rent
General Phone Bills
Mobile Phone Top-Ups
Auto Equity Loans
Need to Avoid a Late Fee
If you're about to be charged with a late fee for an overdue bill, you can use Check Center's MoneyGram money transfer service to pay your bill within minutes.
Set Up Bill Pay Services
While Check Center's 17 locations are primarily located in San Diego county and throughout the Bay Area, we can set up North and South California residents with our convenient bill pay services, regardless of whether they live near one of our cash loan stores. Simply call us toll-free at 1-888-593-5626.
21st Century Insurance
21st Century Mortgage

A

Abercrombie and Fitch
Acceris Communication
ACN Communication
Action Card and Bank First
ADT Security (Not IDT)
Advanta Bank Corp
Aeropostale
Allied Waste Services
Allstate Auto and Prop Insurance
America Voice Direct
American Eagle Outfitters
American Express
American Famins
AmeriCredit Corporation
Ann Taylor
Applied Card Bank
Aspire Visa
At&t / SBC
Att Mobility
Att Universal MC / Visa
Att U-Verse

B

Banana Republic
Bank of America Visa / MC
Bank One Visa / MC
Barclays Visa / MC
BBT MC/Visa
Bay Finance Comp
Bealls Stores & Outlets
Belk
Best Buy Co Inc
Best Buy Reward Zone MC
Bill Me Later
BJS MasterCard
Blair
Blue Casa Batch Payment
Boost RTR
BP Oil (Formerly Amoco)
Brinks Home Security
Brylane Home
C

Capital One Auto Finance
Capital One Credit Card
Charter Communication
Chase Auto Finance
Chase Visa / MC
Chevron
Chrysler Financial
Circuit City Stores Inc
CITCO
Citibank Visa / MC
Citifinancial Auto
Citifinancial Retails
Citizen Bank Credit Card
City of Chula Vista
City of San Diego (water)
Comcast Cable and Phone
Conoco and Phillips 66
Cox Cable
Cricket Bill Pay
Cricket Flex Bucket
Cricket Pay Go
Cross Country Visa / MC

D

Deer Park
Dell Financial Services
Dillard
Direct Merchants Bank
Direct TV (4 hr Post)
Discover Card
Dish Real Time
E

Embarq
Emerge MC/Visa & Eufora MC
EXXON/Mobil

F

Farmers Insurance
Fashion Bug
Ferrell Propane Gas
Fingerhut
First Consumers Nat'l Bank
First Premier Visa / MC
First USA / First Card Visa / MC
Ford Motor Credit
Free Choice Communication
Fry's Credit
G

GAP & GAP Visa
Gateway Credit Card Plan
GE Money Bank
GEICO Insurance
GMAC (Auto Finance)
GMAC Mortgage
Goodyear Tire Credit Plan
Goody's
Guitar Center Retail Svcs

H

Healthy Families
Home Depot
Home Shopping Club
Honda Finance Corp
HSBC Card Services
I

IDT America (Phone Co)
IKEA (All Pymts)
Imagine Infiniti Svcs
Indio Water Authority
Infiniti Financial Svcs
Isopay

J

JC Penney & MC
Juniper Bank

K

Kawasaki
Kohl's Department Store

L

Lane Bryant
Lerner and N York & Co
Linen & Things
Loft MF
Lord & Taylor
Lowes

M

Macys & Visa
Mandee
MBNA Visa / MC
MCI (All Pymts)
Meijer MC
Mercedes-Benz Financial
Merrick Bank Visa / MC
Mervyns
MetLife Auto & Home
Mitsubishi Motor Credit
Modell's Sporting Goods
N

Nissan Motor Acceptance

O

Old Navy & Visa
Otay Water District

P

PC Richards
Pin Pago Card
Poland Springs
Pre Cash all carriers
Prematic Service Copr
Progressive Ins
Providian Visa / MC

R

Radio Shack Stores
RBS Credit Card Svcs
Regional Acceptance Corp

S

Saks Firth Ave
Sallie Mae Loans
Salute Visa Card
Sam Ash Music
SAMS Club
Santander Consumer USA
SDG & E
Seamaw's Furniture
Sears & MC
Shell (Gas Card)
Shop at Home Network
Sigo Card
Sony Financial Services
Southern CA Edison
Specialiszed Loan Svcing
Spiegel & Spiegel MC
Sprint 1hr post
State Farm Bank
State Farm Insurance
SUNOCO (Gas Card)
T

Target & Visa
TDS Telecom & Mero COM
TELECOM USA
TeleDirek
TEMEX USA
TEXACO (Gas Card)
The Children's Place
The Gas Company/SO CA GO
Time Warner SO California
T-Mobile
Toyota (10digits ONLY)
Town North Ban
Toys R Us MC/Visa
Tribute
U

Union Plus Credit Card

V

Value City
Verizon Landline
Verizon Online
Verizon Wire-Cell
Victoria Secret
Volkswagen Credit

W

Wachovia Service
Wachocia Dealer Service
Wal-Mart
Washington Mutual Card
Washington Mutual Mortgage
Waste Management Inc
Wells Fargo Auto Finance
Wells Fargo Card Service
Wells Fargo Financial
Wells Fargo Home Mortgage

Z

Zales Credit Plan
ADT Security
Alestra
GE Money
Infonavit
IUSACell
Movistar
SKY
Spira
Telcel
Telmex
Unefon
Elektra