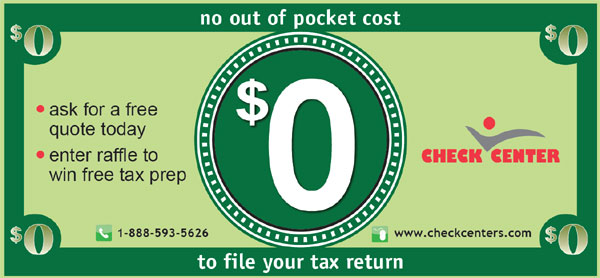 Free, no obligation tax estimate
No out of pocket costs to file your tax return
You choose the form of refund – check, direct deposit, debit card
Competitive tax prep prices – typically $50 less than competitors
Free, personal customer service
Call 1-888-593-5626 to ask for your free tax estimate today!
Tax Processing FAQ's
What are the average fees?
Prices start under $100. The average fee is around $170 – about $50 less than companies such as H&R Block and Jackson Hewitt.
How long does it take to receive my refund?
Direct deposit of your tax refund takes about 7-10 days to be deposited on a Check Center-NetSpend pre-paid debit card.
When can I file my return?
The IRS accepts returns beginning January 20, 2015. We can enter your information now.st
Who prepares the tax return?
Certified tax professionals prepare tax documents.
What do I need to obtain a free quote?
We can start a free no obligation quote with your W-2 or even your last 2014 pay stub.
Call us toll-free at 1-888-593-5626 to get a free tax estimate today.